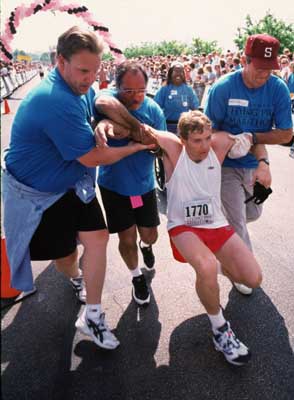 I ran a marathon once. For 4 hours and 37 minutes I sweated, walked, jogged and crawled my way through one of the most humbling/exciting experiences of my life. Boston Athletic Association's running of the 115th Boston Marathon today is my Crown Royal Star Selector preview article inspiration as many running definitions can effectively describe the ebb and flow of play off hockey. Let's utilize a few of the more well known terms to set up game 3 between the Montreal Canadiens and Boston Bruins.
1.
Negative Split
: For those not familiar with 'negative split' the term references the ability to run a faster second half time of a marathon. Montreal would love to run a negative or match their first split as it would translate into a 4 game sweep. Brian Gionta, Michael Cammalleri and Scott Gomez have paced Montreal's offensive attack and look for this trend to continue. Your Star Selector starting lineup should have representation from this lead group.
2.
Kick
: No, I am not talking about Anahiem Ducks Bobby Ryan, but rather a boost of energy near the end of a run. Boston is desperately looking for a boost to get them back into this series. Few people (outside of those within the Sulsky household) expected Montreal to take two games in Boston and if you count last year collapse the Bruins are in the midst of a 5 game playoff losing streak. Expect Milan Lucic to provide the necessary kick for his Bruin teammates. Lucic is just too good to be this ineffective and I fully believe he will come through with a dominant performance.
3.
Hitting the Wall
: I could use this expression in a couple of ways. From a literal standpoint it would be the perfect segue way if I felt Montreal had come out of the gates too strong and blown all of their energy in Boston. But, I am going to leverage some creative liberties and use the term as more of a symbolic description of Carey Price's goaltending. Price had been outstanding in the first two games approaching or even surpassing Jaroslav Halak's performance from a year ago. As long as Price is playing at this level he should remain in your 5 player lineup.
4.
Second Wind
: Bruin fans are desperately hoping that Zdeno Chara suits up tonight. Chara spent Friday night in a hospital reportedly suffering from dehydration. To make matters worse Boston has never overcome a 2-0 playoff deficit while Montreal posts a 48-4 all time record when winning the first two games. Chara, is unquestionably Boston's best player and a key component in any comeback aspirations. If he plays strongly consider starting him in your Star Selector opening lineup.
Ryan Hall set a
Boston Marathon
record today for the fastest time ever posted by an American (2 hours 4 minutes) and still finished fourth. Bruin fans might just be in for the same kind of experience as even their best effort might not be enough to overcome what promises to be an extremely loud and pumped up Bell Center crowd. Either way it will be the game to watch tonight!
If you want to play Star Selector
click here